I have been watching SpongeBob with Mr. Monk this whole day except when I am being the Chauffeur. (And I know I am not the only Weekend Chauffeur around here…) You know what I admire SpongeBob the most? He does not seem to understand the concept of Envy and Jealousy, and therefore he is always genuinely over-the-top happy for other's good fortune, accomplishment and success.
He is, in fact, always happy.
For this rare virtue, he comes off as insane. Unaware. Unhinged.
(Ok, fine. For you anti-random-theorizing folks out there, SpongeBob comes off as insane mostly because he understands spoken words literally…)
.
.
It is cold. As in…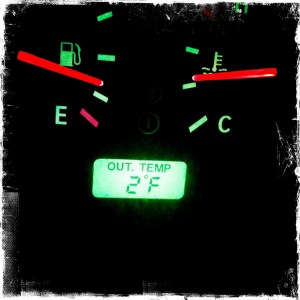 .
.
My husband complained about me not responding to his email or just in general, plainly ignoring him while he travels abroad on business. What can I say? I am the Champion in Compartmentalizing. Guilty as charged. So I sent him this picture above and wrote, "Wish you were here!"
.
.
Completely unrelated. Really. I swear. Girl Scout Honor. I just saw this on our fridge and I am proud of our family motto, so I took a picture of it. That's it. Really. Not trying to say anything. Not a comment at all.