When last summer was over, finding pants that fit all of a sudden became my obsession. Oh not for myself (I mean, that's another, sad sad story). For the strange teenager that took over my oldest boy. Overnight the pants from BOYS' department no longer fit him and those from MEN's department won't for a while. My choice seemed to be either highwater pants or a barrel.
Of course my son was no help.
"Can't you just ask your friends where they buy their pants? For sure you cannot be the only person built with crane legs!" He looked at me with horror.
For weeks I had to refrain myself from asking random model-grade teenage boys with legs rivaling Manga characters (ok, to be fair, so you won't tzk tzk me, they look almost 20. I think.) where they got their jeans.
After repeated whining of "mom I need new pants!" for a few weeks, I managed to drag him along to the mall. To be honest, the only store I was familiar with was The Gap. But somehow their designers have decided that the waist on boys doubles as soon as they outgrow Size 18. I was gearing up to go home with Erkel when I walked past this store with a name that I could not (and still cannot) pronounce.
Aéropostale. (I am still calling them Apocalypse just to annoy my children)
Why didn't anybody tell me about this store? They call their two departments "Guys" and "Girls" for goodness sake! And because this store is for teens, there is no BASIC items, no STAPLES, no CLASSICS. You know what this means right? SALES. DRASTIC DISCOUNT, every season. Before the season ends.
$18 for a pair of jeans. 50% off of sales price.
AND they carry size 28*32 for jeans.
As I was grabbing at sweatpants, jeans, hoodies, shirts with the cut for gazelles, I was at the same time telling myself:
I am a good mother. I am a good mother. I will NOT wear matching clothing with my son esp. the way the clothes are emblazoned with the logo.
I did get a Peace bracelet for $6. And this:
Love the fuzzy hoodie too. But…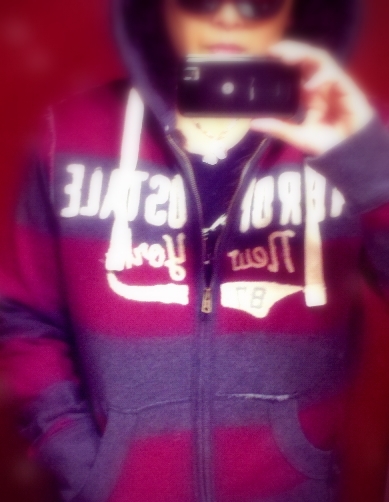 I will not wear the same clothes as my son. I will not buy another hoodie for myself.
But, it is fuzzy. Did I mention that it is fuzzy. It's like if you scalpe a teddy bear and line the hoodie with the fur. You head is cushioned by the dead teddy bear's fur.
On top of that, once we got home, he repaid my kindness by pulling on his new jeans without unzipping first.
Zooom. The jeans were on him. Zooom. They were off.
Like a potato sack. It irked me to no end.
I am an adult. I will not wear clothes from the same store as my teenage son and his friends. I do not have anything to prove. I do not need to dress in clothes from "teen stores" nor will I covet those clothes. I am not going through some mid-life crisis. I will not (threaten to) steal my son's cool new hoodie lined with teddy bear furs… (repeat the mantra)
I told him. I hate you. Seriously.
He beamed and demonstrated the ease with which he pulled on the jeans a few more times.
I said, "I love you. And that is why I will not wear clothes from this store so we won't seem to be wearing matching clothes."
He did not seem to appreciate the sacrifice I made for him.
* SHOES are the exceptions. Of course.